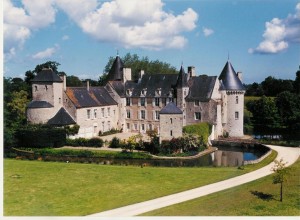 Château de Colombières: Colombières castle has been witness to 1000 years of history. It is one of very few private military fortresses in Normandy, and was constructed by the "Compagnons de Guillaume le Conquérant", the financial backers and military supporters of William the Conqueror the Norman war-lord who was to become King of England. The castle is particularly interesting in that it is bordered by a marsh, which adds to its romantic charm. In fact the fortress was built to protect against enemy incursions, and to control the traffic across the marsh and towards the sea. Astonishingly the chateau has been owned by the same family since 1750. In June 1944, the American Army surrounded the area and used Psychological warfare techniques to dislodge the occupying enemy.
---
Abbaye Sainte Marie de Longues: This Benedictine abbey was founded in the 13th Century and offers and exceptional testimony of religious life in the Middle Ages. Complete with all the buildings and spaces that constitute an Abbey, its architecture has evolved over the centuries. It belongs now to a private owner who lavishes the greatest care and attention on the Abbey, and who is delighted to be able to share its secrets with you.
---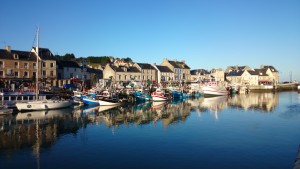 Port en Bessin: The Premier fishing port in Normandy. Busy all year round, this little town has kept all its wonderful charm, providing inspiration to modern day movie directors, as well as famous Impressionist painters of the past such as Sisley and Seurat who made some 40 paintings of the subject. Liberated in an intense battle by 47 Royal Marine Commandos June 7th 1944 it became vitally important as the PLUTO "Pipeline under the Ocean" port supplying fuel to all the Allied forces during the battle of Normandy
---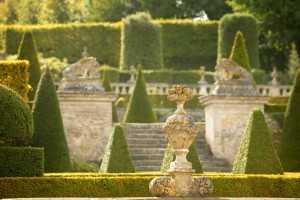 Jardin du Château de Brécy: The Château gardens at Brécy are officially classified as « remarkable », and are a rare example of a 17th Century garden still to be found in France. It mixes stone sculptures and borders of box trees in an Italian style that sprawls across 5 terraces. Attached to the Castle and a small 13th Century Church, it is a haven of peace and tranquillity, where time stands still.
---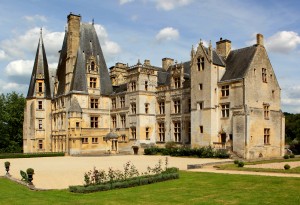 Château de Fontaine Henry: One of the most spectacular castles in all Normandy, and one which has, incredibly, remained in the hands of the same family since the 13th Century. It has a beautiful Renaissance style facade, and its roofs are some of the highest in France. Its owner will show you places which are normally never open to the public – a very special opportunity.