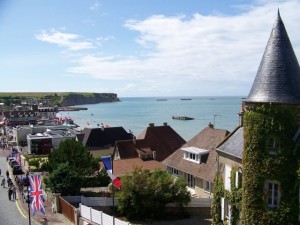 Arromanches: Arromanches is best known for its famous artificial "Mulberry Harbour", prefabricated at coastal sites all around Great Britain, then towed 126 miles across war torn open seas, to be installed a few days after the initial landings. Intended for use just until the ports at Cherbourg or Le Havre could be captured, in fact over the next 10 months, the Mulberry carried on to unload some 2,5 million troops and all their supplies. A similar port was built at Omaha Beach but did not survive a major storm in mid June.
See the surviving structure, and visit the museum.
---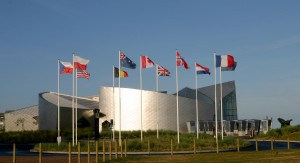 Juno Beach Center: Inaugurated on 6 June 2003, at the exact point of the landing at Courseulles, this Museum and memorial shows the huge importance of the Canadian contribution in both manpower and industrial effort, to the success of the Allied landings.
It includes testimonies of veterans, period films and historic documents.
---
Bernières: A typical small coastal village. Its beach littered with obstacles and defended by cannon and machine guns, its capture extracted a heavy toll in losses to Canadian regiments. One of the companies lost half his men on the first 100 yards of beach. Much to the surprise of its inhabitants, many of the troops were French speaking men from the Régiment de la Chaudière. One of the first houses liberated is still standing, and hundreds of visitors per year visit and take pictures.  Canadian General Keller established his first headquarters here in Bernières.
---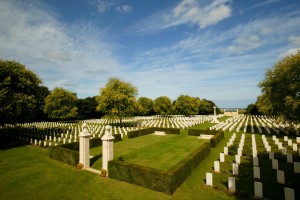 Canadian War Cemetery Beny: With 2049 graves, this is one of two Canadian cemeteries in Normandy, the other being Cintheaux, just South of Caen. It has a similar design to all Commonwealth war graves cemeteries since the First World War There are 16 British and Commonwealth War Graves cemeteries across Normandy; the smallest, south of Bayeux, has 48 graves. Several hundred soldiers are also buried in local cemeteries. Some cemeteries also include German graves.
The US, besides the cemetery of Colleville (9,387 graves) also maintain another cemetery in Saint James (4.410 graves) in Brittany